Leasing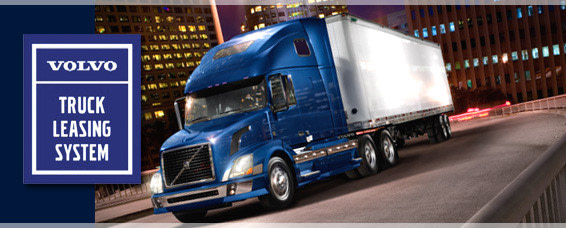 OUR FULL-SERVICE LEASE DELIVERS TOTAL SATISFACTION.
Coffman Brothers Rental & Leasing Co. gives you an advantage over other leasing companies in North America: a direct tie to an OEM. Volvo Truck Leasing System (VTLS) is an established and highly respected association of approximately 200 Volvo truck dealerships in the United States and Canada. We provide fleet managers a variety of products to support their transportation needs.
We offer full service leasing tailored to your specific needs as well as related services including, but not limited to, licensing, permitting, and fuel tax reporting. You choose the services you want and we will provide those along with the vehicle and required maintenance.
When you lease your vehicle from Coffman Brothers Rental & Leasing Co, you can "Talk to the Boss" because we are a division of Coffman Truck Sales, Inc., a family owned GMC and VOLVO truck dealership who has been selling and servicing commercial vehicles in the Fox Valley area for over 70 years. Call 630-897-4291 for more information
Local dealers providing the right truck, supported by a national network, ensures greater accountabiliby and less downtime through the Volvo Truck Leasing System.
• Maintenance plans tailored to your business. Parts and labor are always included, and we offer a menu of options that covers tires, taxes, permits, licensing, fuel cards, truck washing and substitution. Vehicle identification, insurance and extra vehicles can also be part of a customized full-lease package.
• Rentals for when your business needs a lift. Our entire line of modern, efficient and technologically advanced Volvo Trucks are available for daily, weekly rental or for seasonal needs, and can be bundled with the same services and advantages as our leased trucks.
• Contract maintenance gives you predictable costs. VTLS contract maintenance determines maintenance costs in advance by creating a program that's custom-tailored to your application.
• National Account Lease Sales support manages all of your trucks and locations through a centralized equipment resource. One office handles all of your vehicle needs, no matter where they are in North America. Billing is simplified and equipment can be transferred between locations.
• A simplified licensing and permitting process. VTLS will help you obtain all oversize/overweight, temporary trip/fuel and IRP permits in minutes. Our full-service fuel tax program guarantees compliance with state, provincial and federal regulations while ensuring accurate reports that can save you money on taxes. We offer remote vehicle monitoring and communication services, as well as remote paperless reporting to save time and add convenience.
• Customized financing through Volvo Financial Services. Volvo Financial Services delivers a full range of products, including loans and financial leases which also allow you to benefit from a VTLS contract maintenance program. Volvo Financial Services will work to provide you with a finance or lease solution that is tailored to your needs.
• Volvo Action Service: roadside assistance anytime, anywhere. Volvo Action Service (VAS) is a 24-hour, seven-days-aweek service that gives you emergency roadside assistance anywhere in the U.S., Canada and Mexico. You have access to more than 13,000 service providers, all with one goal: getting you up and running as fast as possible. VAS will coordinate services which include towing dispatch, tire repair/replacement, refrigeration unit assistance, accident/emergency assistance, load forwarding and rental truck assistance.
• Connected vehicle services maximize productivity. Volvo's Remote Diagnostics telematics solution provides proactive diagnostic and repair planning assistance with detailed analysis of critical diagnostic trouble codes. The remote communication platform facilitates live dealer and customer communication through VAS, and proactive diagnostics streamline service procedures with confirmation of parts on-hand before a truck arrives at a service location. Remote Diagnostics also provides service case communication and documentation among VAS, dealers and customers through ASIST, Volvo's webbased service management tool. In addition, customers can sign up for optional OEM-sponsored partner fleet management programs, designed specifically for VTLS.
• Participating in the FleetPREFERRED™ program provides you with the highest level of service - and the greatest purchasing power - for parts, maintenance and repairs. FleetPREFERRED is available to customer-owned fleets of 20 trucks or more. As a member, you'll receive nationwide credit on parts and service purchases throughout the dealer network in the U.S. and Canada, with competitive pricing and consolidated billing for maximum convenience.
A FEW BENEFITS OF LEASING:
There are many good reasons to lease or to rent.
• Free up working capital. Don't keep it tied up in equipment.
• Leasing spend is pre-tax, so the majority of your costs are tax-deductible.
• Multiple expenses are combined into a single, cost-effective payment.